Long Term Disability
For long term disability claims, we provide the claims manager with recommended actions for a given claim. It is rather like having a committee of your most experienced claims managers looking at every claim. This provides the claims manager with a suggested plan to follow for the claim.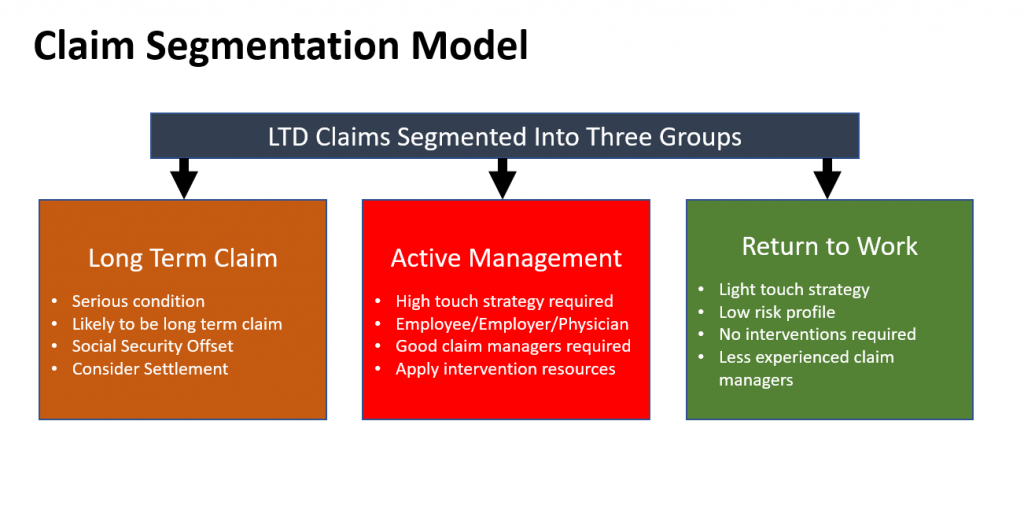 The diagram above shows how the claims are grouped into three 'action' categories. This illustrates how the analysis groups the claims for the claim managers.
Return to Work – Claims that are ranked in this category are the least severe claims and from previous experience the analysis has determined that these claimants will return to work without any intervention or active management.
Long Term Claim – This category is for the most severe claims with serious conditions and from previous experience these claims are not likely to return to work. They should be considered as candidates for Social Security offset, and settlement. For these claims it is all about understanding the severity of the condition as it relates to the individual. There will always be examples of individuals in this classification that do recover, but these are outliers. Please see our section on "Attitude is Everything".
Action Required – These claims are in between the other classifications. They could become long term claims, or they could return to work.
The 'action required' category is where claims management can really make the difference!
These are the claims where every resource should be used to achieve a return to work, such as vocational rehab, medical rehab, etc.
It is crucial that the claims manager maintains contacts with the employee, the employer, and the doctor to ensure that everything possible is done to achieve a return to work.
Long Term Disability – Reporting
The Claim Lab will produce exception reports to highlight claims that have not followed the expected path to return to work. For example, claims which are in the return to work category that after 6 months, are still on claims. There can be many reasons for this (condition is more severe than expected, there is a secondary diagnosis, even malingering by the claimant) but these claims need to be highlighted for investigation.
The Claim Lab  – Email us at  info@claimlab.org